There are currently no events
2019 Unit Run Stats
E41
303
WS42
1
RE4
180
ET44
39
B47
23
B48
3
P45
591
A46
0
U4
11
Updated:
9/13/19
Total
1160
2019 Incidents
Fire
EMS
Jan.
23
58
Feb.
51
61
March
34
58
April
32
55
May
32
82
June
37
49
July
35
70
Aug.
28
63
Sep.
12
28
Oct.
Nov.
Dec.
Total
284
524
2018 Incidents
Fire
EMS
Jan.
37
68
Feb.
28
74
March
34
78
April
24
76
May
25
66
June
20
79
July
43
68
Aug.
45
65
Sep.
38
60
Oct.
31
67
Nov.
40
68
Dec.
38
58
Total
403
827
Unit Run Stats
2O18:
2O17:
2O16:
E41
470
248
231
WS42/E42
23
18
48
RE4
291
221
217
ET44
61
58
8
B47
21
32
43
B48
13
5
10
P45
878
828
704
A46
30
8
113
U4
52
128
199
DTY4
43
9
26
Total
1884
1557
1601
Incidents by Year
Year
Fire
EMS
2014
318
664
2015
314
745
2016
315
744
2017
338
751
2018
403
827
Web Counters
Website Visitors
Since
November 19, 2008

Visitors Today
Oct 14, 2019

Lisbon VFC Awarded BGE First Responder Safety Grant
By Lisbon VFC
March 13, 2019
The Lisbon Volunteer Fire Company has been awarded a BGE First Responder Safety Grant for 2018. The grant will allow our Company to purchase a set of 51 ton high pressure lifting bags. This generous award allows us the means to upgrade our rescue capabilities for handling large truck and passenger bus emergencies on Interstate 70 as well as railway incidents in the Woodbine and Mt. Airy areas.
BGE's Emergency Response and Safety Grant program, now in its eighth year, is an integral part of BGE's continued commitment to supporting safety and reliability while also enhancing the communities it serves. It supports nonprofit emergency response and public safety organizations by providing funding that is vital to their success. To date, BGE has provided over $1 million to 194 emergency response organizations, who share BGE's commitment to the safety of central Maryland residents.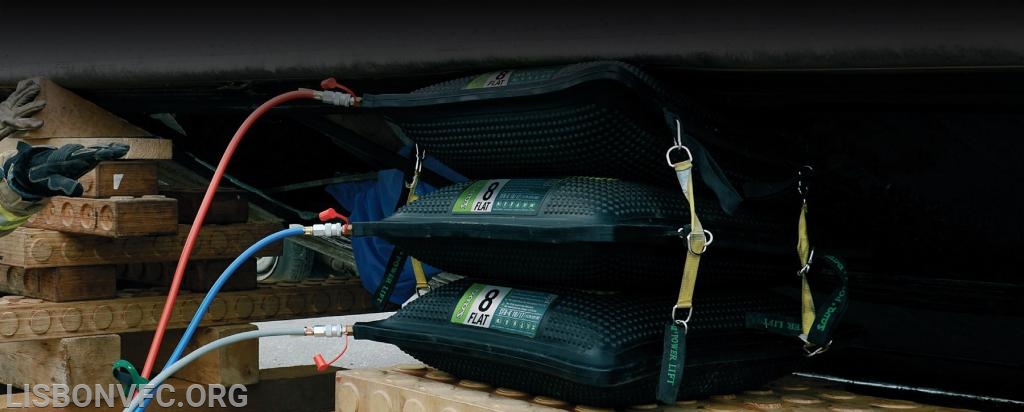 High pressure lifting bags similar to those to be purchased with the BGE First Responder Safety Grant.